Late Night Snack
---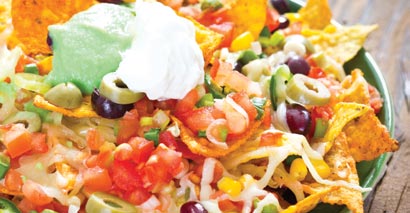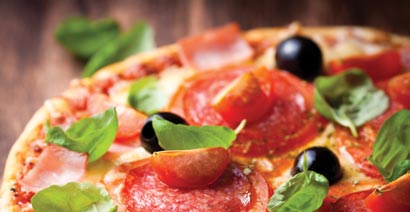 2950 South Graham Rd
Saginaw, MI 48609
Email: info@goldenglow.com
Fax: (989) 671-9698
Phone: (989) 781-2120
View Printable Menu
Late Night Snack Selections
It's getting late and your guests are looking for a snack. Add something special to your event to finish a wonderful evening. Try including one of these options - we know your guests will enjoy and thank you for it!
Tray of Pizza
Scrumptious Pizza made in-house with your choice of three toppings: Mushrooms, Pepperoni, Ham, Ground Beef, Sausage, Bacon, Onions, Green Peppers, Olives, or Pineapple.
$75 per Sheet Tray (approximately 45 slices)
Mac & Cheese Martini Bar
Baked Homemade Mac 'n' Cheese with a selection of tempting toppings such as Crisp Bacon, Garlic and Herb Bread Crumbs, Grated Parmesan, Diced Tomatoes, Green Onion, Sautéed Mushrooms, Caramelized Onion and Blue Cheese.
$3.50 per guest
The Ultimate Nacho Bar
"Build your own" Nacho Bar with White, Red and Blue Corn Tortilla Chips, served with Seasoned Ground Beef, Chili Queso, Sour Cream, Diced Tomatoes, Refried Beans, Shredded Lettuce, Salsa, Shredded Monterey Jack Cheese, Pickled Jalapeños and Fresh Guacamole.
$4 per guest
The Ultimate Sandwich Bar
"Build your own" late night Sandwich with your choice of Ham, Turkey, Swiss Cheese, Provolone Cheese, assorted Petite Breads, Lettuce, Tomato, Mayo, Mustard, Pesto and Pickles.
$4 per guest
Chicago Style Coney Dog Station
Michigan Koegel Hot Dogs dressed any way your guests would like! Toppings include Pickle Relish, Ketchup, Mustard, Onions, Tomatoes, Dill Pickles, Cheddar Cheese, Coney Sauce and Steamed Buns.
$4.50 per guest
Gourmet Popcorn Station
Let your guests enjoy making their own creation by choosing from the seasonings below.:
$2.00 per guest
Bacon Cheddar
Buffalo Wing
Butter
Caramel
Cheesy Jalapeno
Garlic Parmesan
Kettle Corn
Milk Chocolate Caramel
Nacho Cheddar
Popcorn Salt
Ranch
White Cheddar
Salty and Crunchy Bar
Select One (1), Two (2) or Three (3):
Potato Chips with French Onion Dip
Tortilla Chips and Fresh Salsa
Chex Party Mix
Pretzels
Cheddar Gold Fish
Gardetto's
Assorted Nuts
Hummus with Crisp Pita
$51 (serves approximately 50 guests)
Available only with a dinner package and must be pre-ordered no later than at the final meeting with our banquet coordinator.
*All prices subject to 22% service charge and 6% sales tax.