Desserts & Cakes
---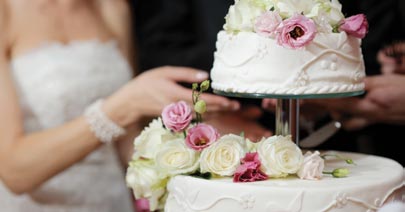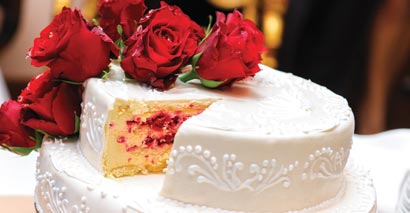 2950 South Graham Rd
Saginaw, MI 48609
Email: info@goldenglow.com
Fax: (989) 671-9698
Phone: (989) 781-2120
View Printable Menu
Dessert Menu
Custom Cakes
Every cake made at the Golden Glow Ballroom is a work of art. Impress your friends and guests with a cake that not only looks great, but is delicious as well. Our team of pastry artists can create any type of cake to meet your tastes and the event's needs.
Starting at $3.50 per guest for butter cream and $4.50 per guest for rolled fondant.
Gourmet Cupcakes
We offer many unique and traditional flavors to choose from, starting at $1.50 per guest for petite cupcakes and $2.50 for full size.
Cake Flavors*
Almond
Aztec Chocolate (Spicy)
Bailey's Irish Cream®
Banana
Classic Carrot
Classic Yellow
Coffee
Butterscotch
Butter Pecan
Confetti
Dark Belgian Chocolate Chip
Holiday Spice
Lavender
Margarita
Orange
Dark Chocolate Raspberry
French Vanilla Bean
Key Lime
Lemon Poppyseed
Marble (Vanilla and Chocolate)
Meyer Lemon
Michigan Cherry
Peanut Butter
Pineapple
Pistachio
Raspberry
Salted Caramel
Southern Red Velvet
Spiced Pumpkin
Strawberry
Toasted Coconut
White Chocolate
Cake Fillings*
Chocolate Ganache
Fresh Fruit
Jam
Maraschino Cherries
Mousse
Toasted Nuts (Pecans, Almonds, or Walnuts)
Fusions
Caramel Apple
Cinnamon Roll
Heath Bar
Kahlúa Fudge
Key Lime White Chocolate
Maple Bacon
Mint Chocolate Chip
Peanut Butter Cup
Piña Colada
Turtle
Petite Mousse Cups*
Starting at $2 per guest (assorted flavors)
Banana
Caramel
Chocolate Mint
French Vanilla
Key Lime
Lemon
Oreo
Peanut Butter
Raspberry
Strawberry
Chocolate (White or Milk)
Gourmet Cookies*
Starting at $1.50 per guest (for classic flavors)
Chocolate Chip (option to add Almonds, Walnuts, or Pecans)
Coconut Macaroon
Oatmeal Rasin
Peanut Butter
Pumpkin
Snickerdoodle
Sugar
Triple Chocolate Chip
White Chocolate Chip
No Bake
Cake Service
(Free of charge if you are serving the Golden Glow's cakes or pastries)
| Wedding Cake Services | Disposable Plate and Fork | China Plate and Fork |
| --- | --- | --- |
| For Groups up to 150 Guests | $50 | $100 |
| For Groups of 151 or More | $.50 per guest | $.75 per guest |
Dessert stations
The Golden Glow also offers petite desserts and party favors, such as cookies, chocolate truffles, petite cheesecakes, petite mousse cups, dipped fruit and many other seasonal delights. A minimum order of 75 pieces is required. Let us put our creativity to work for you.
Are you looking for a custom dessert station for your wedding? Please schedule a meeting with our Chef to ask about all of our tasty options. Packages start at $5 per guest.
*Additional flavors and or fillings upon request.
**All prices subject to 18% service charge and 6% sales tax.