Off-Site Catering
---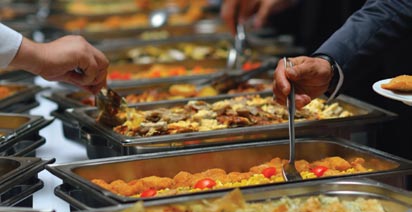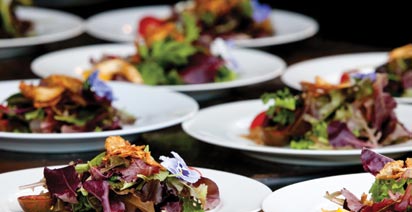 2950 South Graham Rd
Saginaw, MI 48609
Email: info@goldenglow.com
Fax: (989) 671-9698
Phone: (989) 781-2120
View Printable Menu
Off-Site Catering Menus
---
Traditional Off-Site Catering
Price Includes: Two (2) Starches, Two (2) Vegetables and Three (3) Salads Accompanied with Whipped Butter and Warm Rolls. Drop-off Service.
Drop off service includes: Delivery, Food Line Set-Up, & Disposable Chafing Dishes and Sternos.
| | |
| --- | --- |
| One Entrée | $12 |
| Two Entrées | $13 |
| Three Entrées | $14 |
Prices are Per Person, with a minimum of 100 guests.
Entrées
Polish Sausage and Sauerkraut
Herb Roasted Chicken
Honey Baked Ham
Swedish Meatballs
Turkey with Sage Supreme Sauce
Starches
Herb Roasted Redskins
Mashed Potatoes and Gravy
Wild and Brown Rice with Dried Cranberries
Buttered Noodles
Classic Scalloped Au Gratin Redskins
Vegetables
Corn O'Brien
Mixed Vegetable Medley
Green Beans Almondine
Buttered Peas with Mushrooms
Honey Tarragon Glazed Carrots
Salads
Traditional Macaroni Salad
Tossed Salad with a Trio of Dressings
Red Bliss Potato Salad
Cole Slaw
Crudités with Dip
---
Full-Service Off-Site Catering
Includes the following: uniformed servers, elegant chafing dishes and platters, linen napkins, salt & pepper shakers, water goblet, china dinner plates and stainless flatware, linen tablecloths, table skirting, centerpiece vases.
| | |
| --- | --- |
| Silver Menu | $26 Per Person |
| Gold Menu | $30 Per Person |
| Platinum Menu | $35 Per Person |
Silver Entrées $26
Price Includes Two (2) Entrées, Two (2) Starches, Two (2) Vegetables and Four (4) Gold Salads Accompanied with Whipped Butter and Warm Rolls
Entrées - Select Any Two (2)
Tender Beef Tips in Dijon Cheddar Cream with Onions and Mushrooms
Classical Salisbury Steak Spiced with Onion, Green Pepper, and Garlic, Finished in a Rich Red Wine Demi-Glace
Creamy Dijon and Lemon Chicken Fettuccine
Bone-in Chicken Rubbed with Garlic and Shredded Parmesan
Sautéed Bone-in Chicken with Cranberry Apple Relish
Grape and Merlot Grilled Bone-in Chicken with Herbs
Hawaiian Style Smoked Ham with Pineapple
Apple and Cognac Braised Pork Loin
Garlic and Herbed Baked Alaskan Pollock Bathed with Butter and Chardonnay
Tri-Colored Tortellini in Sun Dried Tomato Cream
Tuscan Tri-colored Cheese Tortellini in a Roasted Garlic and Olive Red Sauce
Gold Entrées $30
Price Includes Two (2) Entrées, Two (2) Starches, Two (2) Vegetables and Four (4) Gold Salads Accompanied with Whipped Butter and Warm Rolls
∆ - Denotes carved items, live carving is $50 per buffet line
Entrées - Select Any Two (2)
Flank Steak Marinated in Molasses and Cracked Black Pepper Served with Bacon Demi-Glace ∆
Szechuan Rubbed Butt Tender of Beef, Served with a Garlic Ginger Glaze ∆
Classical French Beef Bourguignon - Tender Tips of Beef Slow Braised with Bacon, Mushrooms, Onions and Potatoes in a Rich Red Wine Sauce
Oven Roasted Beef Top Round with Garlic and Herbs Served with Classical Au Jus ∆
Chèvre, Spinach, and Exotic Mushroom Stuffed Chicken Breast with Garlic Butter
Pecan Crusted Chicken Cutlets with Pear and Blue Cheese
Raspberry and Pesto Rubbed Chicken Breast
Maple and Balsamic Glazed Chicken Breast
Rosemary and Lavender Pork Tenderloin with Blueberry Syrup*
Black Sesame Teriyaki Spiced Pork Tenderloin*
Slow Roasted Ancho Pork Loin on a Bed of Red Beans and Rice, Finished with Avocado Salsa Verde*
Black Pepper and Brown Sugar Baked Salmon Topped with Pear and Ginger Chutney
Alaskan Cod Crusted with Mild Horseradish, Topped with Blueberry Thyme Butter
Creamy Rich Risotto with your choice of Roasted Garlic, Parmesan and Exotic Mushrooms or Spinach, Artichoke and Feta
Pasta with Artichokes, Spinach, Mushrooms in a Basil Cream
Mushroom Ravioli in Garlic Cream
Exotic Mushroom Strudel with Cranberry Balsamic Glaze
Short Rib with Garlic and Herb Seasoning Braised in Red Wine Served with Au Jus
Platinum Entrées $35
Price Includes Two (2) Entrées, Two (2) Starches, Two (2) Vegetables and Four (4) Gold Salads Accompanied with Whipped Butter and Warm Rolls
∆ - Denotes carved items, live carving is $50 per buffet line
Entrées - Select Any Two (2)
Black Pepper and Pink Sea Salt Rubbed Strip Loin with Cabernet and Mushroom Reduction ∆
London Broil - Braised Beef with Brandy, Garlic and Rosemary Served with a Horseradish Cream ∆
Texas Style, Michigan Cherry Wood Slow Roasted Braised Beef Brisket Rubbed with Southern Spices and Served with Cherry Barbeque Sauce
Asian Style Slow Braised Beef Short Ribs
Rosemary and Herb Rubbed Airline Chicken Breast with Blackberry Brie Sauce
Classical Chicken Breast Marsala with Caramelized Mushrooms and Marsala Cream
Airline Chicken Stuffed with Bacon, Coarse Grain Mustard, and Finished with Avocado Butter
Hickory Smoke Kissed Pork Tenderloin with Creole Mustard and Lobster Sauce*
Maple Grilled Pork Tenderloin with Candied Pecan Cream*
New Orleans Style Mahi Mahi Cajon Rubbed and Served with Pico de Gallo
Creamy Rich Seafood Risotto with Roasted Garlic and Parmesan
Salmon Coulibiac - North Atlantic Salmon Layered with Mushroom and Saffron Rice, Baked in Puff Pastry and Served with Champagne Dill Cream ∆
Crab and Herb Stuffed Lemon Sole with Cognac Lobster Cream
Potato and Exotic Mushroom Hash with Spinach and Artichoke
Linguini with Balsamic, Olive Oil, Pesto, and Herb Grilled Vegetables
Sea Salt Baked Eggplant Layered with Artichokes, Tomatoes, Spinach, Fresh Mozzarella, and Drizzled with Olive Oil and Balsamic
Gold Salads (can be added to any menu)
Classic Caesar
Fresh Organic Greens, Seasonal Fruit and Raspberry Balsamic Vinaigrette
Spinach with Peppered Chèvre and Port Wine Balsamic Dressing
Asian Mixed Greens Salad with Honey Sesame Vinaigrette
Tossed Salad with a Trio of Dressings
Roasted Orange and Cranberry Salad
Organic Mixed Greens with Michigan Cherry Walnut Vinaigrette or Apple Walnut Balsamic
Traditional Macaroni Salad
Tri-Color Pasta Salad with Tortellini
Red Bliss Potato Salad
Platinum Salads
(Included with platinum entrees; can be substituted with silver and gold entrees, but surcharge will apply.)
Marinated Mozzarella and Fresh Tomato with Basil Oil and Balsamic
Roasted Red Skin Potatoes with Passion Fruit Vinaigrette
Greens with Grilled Corn, Smoked Whitefish and Blackberry Dressing
Julienne of Apple, Brie, Michigan Morel Mushroom Vinaigrette and Organic Mixed Greens
Michigan Smoked Whitefish, Peaches and Plum Vinaigrette
Sesame Ginger Marinated Carrot and Kale Slaw
Greek Salad with a Lemon Herb Vinaigrette, Tomato, Grilled Artichokes, Feta, and Olives
Spinach with Grape Chèvre and Merlot Vinaigrette
Peppered Brie, Toasted Macadamia Nuts, and Strawberry Orange Vinaigrette on Mixed Greens
Mixed Greens, Goat Cheese, Cranberry Orange Vinaigrette and Dried Cranberries
Romaine, Mandarin Oranges, Strawberries, Grapes, with a Poppyseed Vinaigrette
Starches
Herb Roasted Red Skins
White Cheddar Crushed Red Skin Potatoes
Classic Scalloped Au Gratin Redskins
Almond Couscous
Homemade Macaroni and Cheese
Smashed New Potato with Roasted Garlic and Caramelized Onion
Lemon White and Wild Rice
Wild and Brown Rice with Dried Cranberries
Tarragon and Garlic Roasted Yukons
Mashed Yukons with Gravy
Red Beans and Rice
Herbed White and Wild Rice
Basil and Thyme Soft Polenta Blended with Parmesan Cheese
Vegetables
Black Sesame Green Beans
Fire Roasted Seasonal Fresh Vegetables
Oven Roasted Vegetables with Garlic and Thyme
Sugar Snap Peas with Sweet Red Peppers
Green Beans Almondine
Buttered Peas with Mushrooms
Broccoli with Pesto Butter
Ratatouille with Fresh Herb
Honey Tarragon Glazed Carrots
Corn O'Brien (Caramelized Sweet Corn with Butter, Garlic and Tri-Colored Peppers)
Olive Oil Roasted Zucchini and Yellow Squash
Garlic and Sea Salt Broccoli
Caramelized Curried Cauliflower